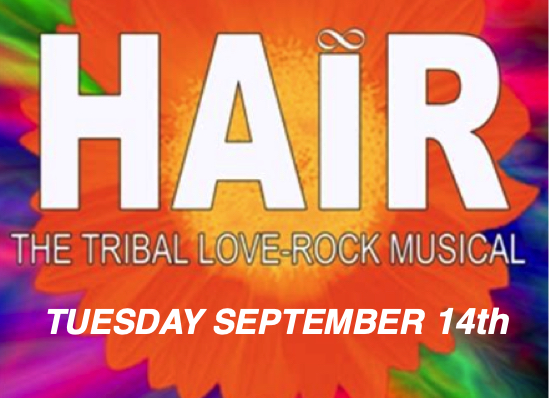 Please join us along with our friends in the San Diego All Ivy + Club to a performance of Hair on September 14th.
Below are the details and link to purchase tickets directly from the Old Globe Box Office.
If you purchase tickets, please send Loreen Collins (president of HCSD) a quick e-mail at presidenthcsd@roadrunner.com so she can keep track of who will be there.
Tuesday, September 14th at 7:00pm, a performance of the iconic rock musical Hair at the Old Globe Outdoor Lowell Davis Festival Theatre.

Heavily discounted tickets in the Premium ($56.00) or Area A ($51.50) sections ONLY can be purchased directly from the Old Globe box office HERE. Note that Gold or Area B tickets are available but not discounted.]

Just click the link and the discount will automatically be applied. If the ticket price does not say "Group Web 35%" next to it, please do not continue with the transaction. Discounts will not be applied later, all sales are final. If anyone has technical issues they can call Group Sales Manager Cristal Salow directly (619-238-0043 x2408). All ticketing service fees are waived. We encourage you to purchase as soon as possible as seats are selling out fast and no seats are reserved for our group. Everyone can choose their own seats and you'll need to plan if you wish to sit together.

We're trying to arrange for a social gathering in the Craig Noel Garden prior to the performance for which you'll be able to purchase your own drinks at the Lady Carolyn's Pub.