THE NIGHT TIGER
Tuesday, January 28, 2020 - 7:30pm
Warwick's
7812 Girard Ave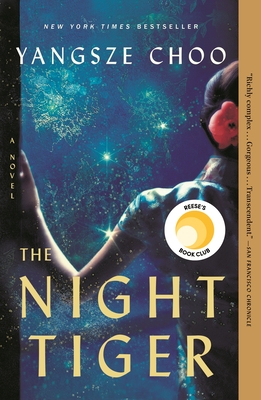 On Tuesday, January 28th at 7:30pm Warwick's will host Yangsze Choo as she discusses and signs the new paperback edition of her book, The Night Tiger. Yangsze Choo is a fourth-generation Malaysian of Chinese descent. After graduating from Harvard University, she worked as a management consultant and at a startup before writing her first novel, The Ghost Bride, which was an O.com Book of the Week. Yangsze lives in California with her husband, two children, and a potential rabbit. This event is free and open to the public. Reserved Seating is available when the book is pre-ordered from Warwick's for the event. Only books purchased from Warwick's will be signed. Please call the Warwick's Book Dept. (858) 454-0347 for details.
Selected as Reese Witherspoon's Hello Sunshine pick in April 2019, The Night Tiger is now available in paperback. New York Times bestselling author Yangsze Choo evokes the Chinese folklore of shapeshifters and the sharp class and race divides in Colonial Malaysia in her sweeping, spellbinding second novel, about a dancehall girl and an orphan boy whose fates are bound together.
1930s, Colonial Malaysia. Young Ji Lin would rather do anything other than work in the town dancehall, where the men pay by the song, but she is determined to pay off her mother's Mahjong debts. One night, her hand slips into the pocket of a dance partner who is just a little bit too friendly, and closes around a smooth cylinder with a gruesome souvenir inside. It just might be the key to the adventure she has been longing for...
Across town from Ji Lin, eleven-year-old houseboy Ren makes a promise to his dying master: He will find the man's finger, lost years ago in an accident, and bury it with his body. Ren has 49 days to do so, or his master's soul will wander the earth forever.
As the days tick by, Ji Lin and Ren's paths crisscross through lush plantations, hospital storage rooms, and ghostly dreamscapes. A series of unexplained deaths wracks the district, along with whispers of men who turn into tigers.

Told in alternating points of view, The Night Tiger pulls the reader into a world of servants and masters, age-old superstition and modern idealism, sibling rivalry and forbidden love. But anchoring this dazzling, propulsive novel is the intimate coming of age of a child and a young woman, each searching for their place in a society that would rather they stay invisible.