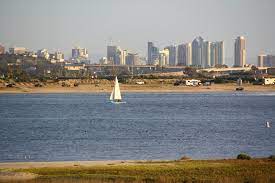 HIKING WITH THE MIT CLUB OF SAN DIEGO ON
DECEMBER 2, 2023 AT CROWN POINT SHORES
Alumni of all ages, family, friends, and pets participating.
The plan is to have a walk the first Saturday of each month.
Please sign up for our next walk. We will start at Crown Point Shores along Mission Bay Saturday December 2nd at 8:30 AM. There is a large free parking lot. Our meeting spot will be near the restroom on the south end of the park.
The planned route is about 5 miles long along a paved walkway adjacent to Mission Bay. We should see a variety of water sports taking place. If we are lucky, there will be some Over the Line being played on the sand. This form of softball is unique to San Diego.
There are restrooms at the start and on the route.
If you do not have time for the full walk, you can return to the start early if necessary.
After the walk, the clubs will supply light refreshments or for those wanting to we can go out to brunch.
Date: December 2, 2023
Time: 8:30am - 11:00am
Meeting Spot: Crown Point Shores, Mission Bay, San Diego, South End of Parking Lot
How to contact the organizer
Jim Amberg, SB 1976 Course V
Click here for a map: http://maps.app.goo.gl/vy9wxbLXkLMQz5Am7