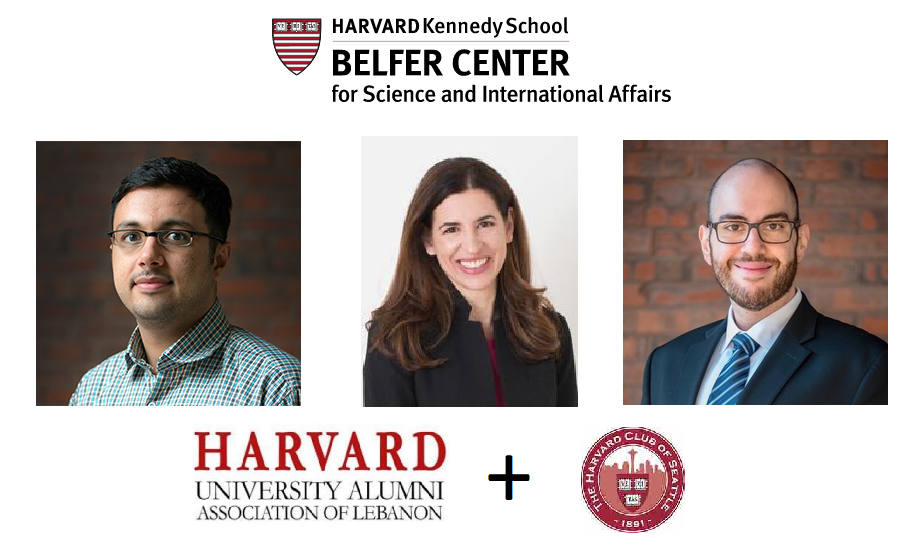 Fundraising Panel: Lebanon After Crisis
In response to the August 4th Explosion in Beirut, The Harvard Club of Seattle is hosting a joint fundraiser with the Harvard University Alumni Association of Lebanon. It will feature Belfer Center scholars and Harvard professors Dr. Jeffrey Karam, Melani Cammett, and Jamal Haidar.
About the panelists
Dr. Jeffrey G. Karam is an Assistant Professor of Political Science at the Lebanese American University. He is also an Associate at the Middle East Initiative at Harvard University's Belfer Center for Science and International Affairs. As an interdisciplinary and multilingual scholar, his research and teaching spans the subfields of International Relations, International Security, American Foreign Relations, and Middle Eastern Studies. His research focuses on the Politics of Intelligence and National Security, US-Middle East Relations, American Foreign Policy, and Revolutions, Coups, and Wars in the Middle East. Dr. Karam is the editor of The Middle East in 1958: Reimagining A Revolutionary Year (I.B. Tauris and Bloomsbury, 2020) and is currently finishing his first book on American intelligence and foreign policy in the Middle East. Dr. Karam is also the recipient of several awards, including the Christopher Andrew–Michael Handel Prize for the best article published in the peer-reviewed journal Intelligence and National Security during 2017, and the Hussein Oueini Memorial Award at the American University of Beirut.
-
Melani Cammett is Clarence Dillon Professor of International Affairs in the Department of Government and chair of the Harvard Academy of International and Area Studies at Harvard. She also holds a secondary faculty appointment in the Harvard Chan School of Public Health. Cammett's books include Compassionate Communalism: Welfare and Sectarianism in Lebanon (Cornell University Press 2014), which won the American Political Science Association (APSA) Giovanni Sartori Book Award and the Honorable Mention for the APSA Gregory Luebbert Book Award; A Political Economy of the Middle East (co-authored with Ishac Diwan, Westview Press 2015); The Politics of Non-State Social Welfare in the Global South (co-edited with Lauren Morris MacLean, Cornell University Press, 2014), which received the Honorable Mention for the ARNOVA book award; and Globalization and Business Politics in North Africa (Cambridge University Press, 2007). Her current research projects explore "toleration" and reconciliation after ethnoreligious violence, development and identity politics. Cammett has published numerous articles in academic and policy journals, consults for development policy organizations, and is the recipient of various fellowships and awards. She serves as a Commissioner on the Lancet Commission on Syria.
-
Jamal Ibrahim Haidar is currently an assistant professor of economics at The American University in Cairo (AUC). He joined AUC after completing a three-year postdoctoral research fellowship at Harvard University. He holds a PhD in economics from the Paris School of Economics, University of Paris-1 Pantheon Sorbonne (FR), a MA degree in applied economics from Johns Hopkins University (US) and a MSc degree in international finance from Cass Business School, City University London (UK). Previously, he worked at the World Bank, International Finance Corporation, International Monetary Fund, and Institute of International Finance in Washington DC. His fields of specialization are international economics and development economics. All his current research projects are in the Middle East, a region in which he travels extensively. His research work has been featured in The Economist, Wall Street Journal, Washington Post, La Tribune, and other media outlets.

Moderators: Jihan Khattar (President of the Harvard University Alumni Association of Lebanon)
& Michael Bervell (President of the Harvard Club of Seattle)
Panelists: Melani Cammett, Jamal Ibrahim Haidar, and Jeffrey G. Karam
Date: Friday, October 23, 2020
Time: 8:00am - 9:00am PST
11:00am - 12:00pm EST
6:00pm - 7:00pm EEST
Ticket Price: Free with a suggested donation ($10)! Attend via Zoom.
Audience: Open to the public!
Questions? Please email Michael Bervell, President of the Harvard Club of Seattle.
This event is in partnership with the Harvard University Alumni Association of Lebanon (donate to the cause here)