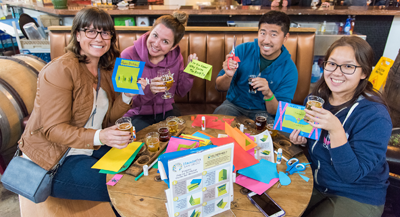 Join Club Members Helping Serving Seniors, a San Diego-based nonprofit 3/5
We'll be creating pop-up cards to celebrate birthdays, Mother's Day and Father's Day for Serving Seniors






Please join us on March 5th as we partner with HandsOn San Diego to give back to the seniors in our community. We'll be creating pop-up cards to celebrate birthdays, Mother's Day and Father's Day for Serving Seniors, a San Diego-based nonprofit that provides programs and services for older adults who are living in poverty. All supplies to create these customized cards will be provided.

In celebration of International Women's Day the same week, we'll be collecting donations of travel size toiletries and new socks for Rachel's Women's Center that locally serves the homeless and very low income.
Register Below by "buying" a free ticket so we know who is coming. Thanks.
Details
Date: Tuesday, March 5, 2019
Time: 6:00 - 8:00pm
Location: Stone Brewing, Liberty Station, 2816 Historic Decatur Road San Diego, CA 92106
Attire: The event will be held in a reserved outdoor area - dressing in layers is recommended
Cost: $10 minimum donation at the door to pay for materials
Other: Food and drinks will be available for purchase while at the event
RSVP: Open to family, including children with parental supervision, and friends - please reserve a spot using the BUY button below! Thanks!