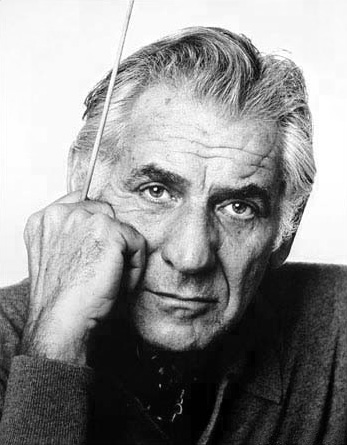 SPECIAL CONCERT AT THE LA JOLLA ATHENAEUM
LENNY'S CENTENNIAL: A BERNSTEIN BIRTHDAY BASH
FRIDAY, SEPTEMBER 14, 2018
7:30 P.M.
1008 Wall St, La Jolla, CA 92037
Join Victoria Martino and James Lent as they celebrate the centennial of Harvard alumnus, Leonard Bernstein's (A.B. '39) birth with a special concert of his rare and ravishing compositions for violin and piano.
Perhaps the only major composer to be held in equal esteem by Broadway fans and highbrow intellectuals, Bernstein is beloved in the theatre and the concert hall. This special centenary celebration will reflect the extraordinary breadth of the legendary composer's creative genius, featuring works that range from early sonatas to his mature
Serenade after Plato's Symposium
, rounded out by the spectacular suite from
West Side Story
.
As an
alumna
of Harvard University, Martino feels a deep affinity to Bernstein, who learned his creative craft there, and composed his violin sonata while an undergraduate in the music department. Bernstein wrote:
"I have always counted my years at Harvard among my greatest musical assets, for the general non-musical training given to me there opened my mind to the world's work in different fields, to the human thinking"
.
He returned to his beloved
alma mater
as a "Harvard Hero" in
1972, to serve as the Charles Eliot Norton Professor of Poetry (with "Poetry" being defined in the broadest sense). The celebrated "Norton Lectures," as they came to be known, are iconic in the annals of music education and appreciation.
Composer, conductor, educator, humanitarian - Leonard Bernstein was a "larger-than-life" figure who made an outstanding contribution to humanity, and continues to exert an inestimable influence in our time. Don't miss this unique opportunity to celebrate his life and work by embarking upon an inspiring musical journey into the composer's most intimate recesses of heart and mind.
SPECIAL OPPORTUNITY FOR HARVARD ALUMNI: Following the performance, Victoria Martino and James Lent will meet with Harvard Alumni to discuss the music and life of Lenny Bernstein.
EVENT INFORMATION
The concert will take place on Friday, September 14, at 7:30 p.m. in the Athenaeum's Joan & Irwin Jacobs Music Room. The doors open at 7 p.m. All seating is on a first-come-first-seated basis with reserved seating for members at the Donor level and above.
TICKETS
$30 members / $35 nonmembers
RESERVATIONS
1.858.454.5872
LOCATION
Athenaeum Music & Arts Library 1008 Wall Street; La Jolla, CA 92037