The Harvard Club of San Diego is Hosting a Very Special Insiders' View of the World Famous Salk Institute - The Report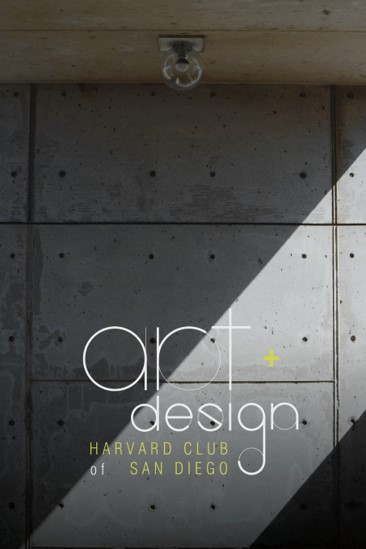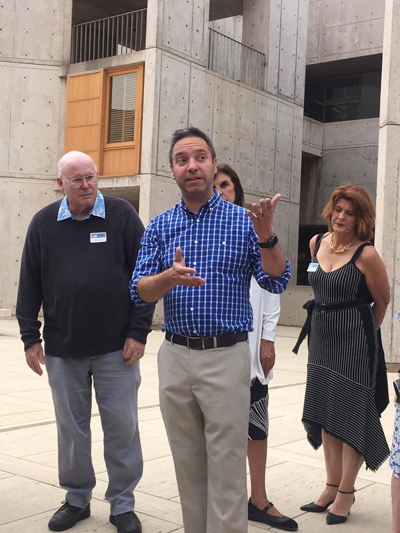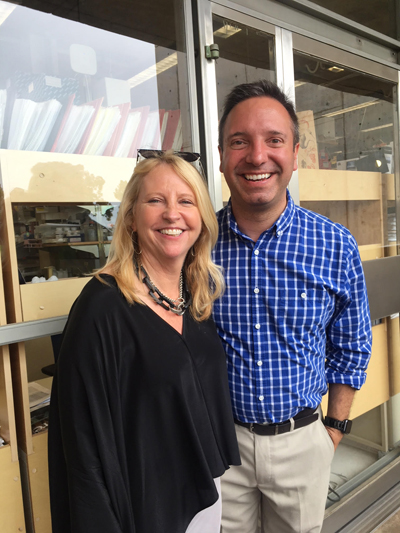 On July 13, Pablo Hollstein and Jennifer Luce led a very special tour at the Salk Institute. Architect Jennifer Luce introduced a group of 30 visitors to Professor Lemke, and described the design process to create his personal study.
Jennifer has been a member of the Board of Directors of the Harvard alumni Association for the last three years.
Pablo is a post doctoral fellow who heads up that program at the Salk Institute. He described how the fellows program works as well as the range of research projects which go on at the Institute.
Harvard alumni and their guests enjoyed a delightful reception overlooking the Pacific ocean after the tour.










Rumor has it, that it was during a sabbatical in Assisi, Italy when Dr. Jonas Salk had the revelation of 'just the right dosage' for the Polio Vaccine. This experience was shared with architect Louis Kahn during the early design phases of the Salk Institute, which led to the inclusion of the studies that line the highly revered courtyard. Often used as a space for retreat, these studies are reserved for personal use by the top scientists at the Institute. Please join us for a private guided architecture tour of the Salk Institute campus, which will also give us a rare look into one of the most intimately designed spaces used by some of the most brilliant minds in the country. The docent-led architecture tour will be followed by a one-of-a-kind design tour of Prof. Greg Lemke's study led by Jennifer Luce, MDes '94, and remarks by Salk Scientists Prof. Lemke, Ph.D. and Postdoctoral Research Fellow Pablo Hollstein, A.B. '01, Ph.D. '09. After the program concludes, please join us for appetizers and drink at the nearby Bella Vista Social Club and Caffé.
Date: Friday, July 13, 3:00 p.m.- 6:00 p.m. The docent-led tour will commence at 3:00 p.m. Please plan on arriving by 2:45 p.m. to allow for parking and security check-in at the entrance to the Institute.

Location: Salk Institute for Biological Studies located at 10010 N. Torrey Pines Road, La Jolla.
Architecture Tour: Docent-led tour of the award-winning architecture - by Louis Kahn - of the Salk Institute, situated with stunning views of the Pacific Ocean.

Private Tour of Dr. Greg Lemke's Professorial Study with Harvard alumna Jennifer Luce, MDes. '94: Jennifer will lead this tour to describe her close working relationship as she fulfilled Dr. Lemke's vision of his new study. Jennifer is principal and founder of Luce et Studio Architects in La Jolla, and has practiced architecture in San Diego for over 30 years. Additionally, Jennifer has served on the board of the Harvard Alumni Association for the past three years.

Remarks by Professor Greg Lemke, Ph.D.: A renowned expert in the role of the body's immune system in fighting infectious disease, autoimmune disorders and cancer, will describe to the group an overview of the role of principal investigators at Salk like himself and give the tour group a flavor of his exciting research.

Remarks by Pablo Hollstein, A.B. '01, Ph.D. '09: Chair of the Society of Research Fellows at Salk, lung cancer research fellow and a Harvard Club of San Diego board member, will describe the diversity of scientific research and outreach happening at Salk.

Food and Drinks: After the tour, HCSD will host a reception with appetizers and drinks at the nearby Bella Vista Social Club and Caffé.

Parking: Limited visitor parking is available at the front parking lot of by the main entrance to Salk (called East Lot), which can be accessed either from Salk Institute Road or from Torrey Pines Scenic Rd, off of N. Torrey Pines Rd. Additionally, free street parking is available along Salk Institute Road or Torrey Pines Scenic Rd. Paid parking is available at the lot next to Bella Vista Social Club and Caffé, at 2880 Torrey Pines Scenic Drive.

Tour Package Cost: $35 per Harvard Club member and $42/non-members and guests, including a reception to follow at the Bella Vista Social Club, with stunning ocean views adjacent to the Salk Institute. We are now sold out for the event.
When:
3:00PM - 6:00PM Fri 13 Jul 2018 ( Timezone: Pacific )

Where:
Salk Institute for Biological Studies
10010 N Torrey Pines Rd
La Jolla, CA 92037
[ Get Directions ]
Enter Waitlist Here...