Harvard Alum, Victoria Martino, will be performing Telemann's 24 Fantasias for unaccompanied violin June 25
We hope that you will join us on
Sunday, June 25

, 2017, the 250th anniversary of Georg Philipp Telemann's death, in celebrating the extraordinary legacy of this great Baroque composer.


Dear Friends, Fans, and Followers,

I hope that you will join me on

Sunday, June 25

, 2017, the 250th anniversary of Georg Philipp Telemann's death, in celebrating the extraordinary legacy of this great Baroque composer. I will be performing Telemann's 24 Fantasias for unaccompanied violin on my original 1760 Baroque violin, uniting the two volumes of solo Fantasias, quite possibly for the very first time since they were composed! Don't miss this unique and truly special concert, honoring one of the most creative, innovative, and modern composers of the early 18th century. You will hear enough delightful and catchy tunes to keep a song in your heart for the entire summer!

Musically yours,

Victoria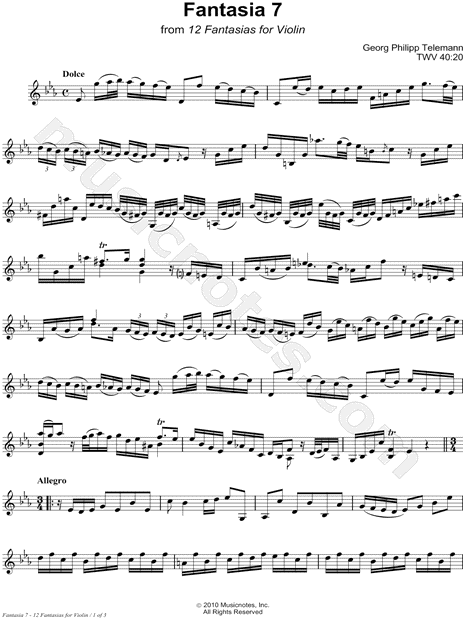 The Athenaeum Music and Arts Library presents
A Special Concert by Baroque Violinist Victoria Martino
Sunday, June 25, 2017
2:00 p.m.
"Fantasia"
Celebrating the 250th Anniversary of the Death of Georg Philipp Telemann
On June 25, 1767, Georg Philipp Telemann, the most acclaimed and highly regarded German composer of the Baroque era, died in Hamburg at the age of eighty-six years. An esteemed friend of Handel, J.S. Bach, and many other composers of his generation, Telemann was universally considered in his day to be a more "modern" and innovative composer than any of his contemporaries, and he was therefore more successful than all of them. An autodidact, and yet one of the most prolific composers of all time, he produced works in every conceivable genre, from operas, passions, oratorios, cantatas and orchestral suites, to concerti and the most intimate chamber works for a wide range of instruments. Of these latter compositions, his 24 Fantasies for solo violin are among the richest and most imaginative. They incorporate nearly all of the stylistic models then employed in Europe: the French overture, the Italian cantilena and Siciliano, and a multitude of German dance forms, with the occasional Polish folk tune thrown in for good measure.
An accomplished violinist himself, who retained a great love for his first instrument throughout his long career, Telemann did not spare the solo performer of his Fantasies any technical displays of virtuosity or flights of musical fancy. These works require a violinist of consummate technical skill and impeccable musicianship.
The first twelve Fantasies, although clearly composed for the violin (as indicated on the original manuscript title page), have been traditionally performed on the flute. Victoria Martino has researched the original manuscript and studied the works in great detail, and she has concluded that they are idiomatically conceived for the violin, both technically and musically. In this historic anniversary concert, she will reunite the 24 Fantasies, possibly for the very first time since their composition.
Victoria Martino studied Baroque violin with Robert Koff in Boston, and has been performing professionally as a soloist and chamber musician with early music ensembles since 1989. Her extensive early music orchestral experience includes: associate concertmaster of Cappella Accademica Wien for nearly ten years, and principal second violin of the Wiesbaden Bach Orchestra, the Carmel Bach Orchestra, and the Los Angeles Baroque Orchestra. She has collaborated and played recitals with many notable figures in the early music world, including violinist Eduard Melkus, harpsichordist Huguette Dreyfus, and lutenist Robert Barto. For over a decade, she toured internationally with her own ensemble, the Albertina Soloists, giving concerts throughout Europe, North America, Australia, and Japan.

In addition to performing the standard solo repertoire for Baroque violin, Ms. Martino has re-discovered many unpublished and misattributed compositions from the 17th and 18th centuries, and she is passionately committed to the revival of works that have never been heard by modern audiences in their original form. Whenever possible, she performs all early music from the autograph manuscript, in order to be completely faithful to the composer's intentions. She plays an original (unmodified) Baroque violin by Michael Andreas Bartl (Vienna, 1760).

This Telemann anniversary concert continues a tradition for which Victoria Martino is becoming widely known: the celebration of significant anniversaries of major composers through monographic performances of their works for violin.
The Athenaeum has kindly extended tickets for this event at its membership rates to all HCSD members. If you are interested in meeting Ms. Martino before the event, please inform the Athenauem at the time you purchase your tickets.
When:
2:00PM - 4:00PM Sun 25 Jun 2017 ( Timezone: Pacific )

Where:
ATHENAEUM MUSIC AND ARTS LIBRARY
1008 Wall Street
La Jolla , CA 92037
[ Get Directions ]