[Ivy+] La Jolla Playhouse: July 6, 2017 @ 6:30 pm
Pre-theater reception, panel discussion, & tickets to the play "At the Old Place."
Join us at 6:30 pm for a private reception with appetizers, wine, beer, and soda.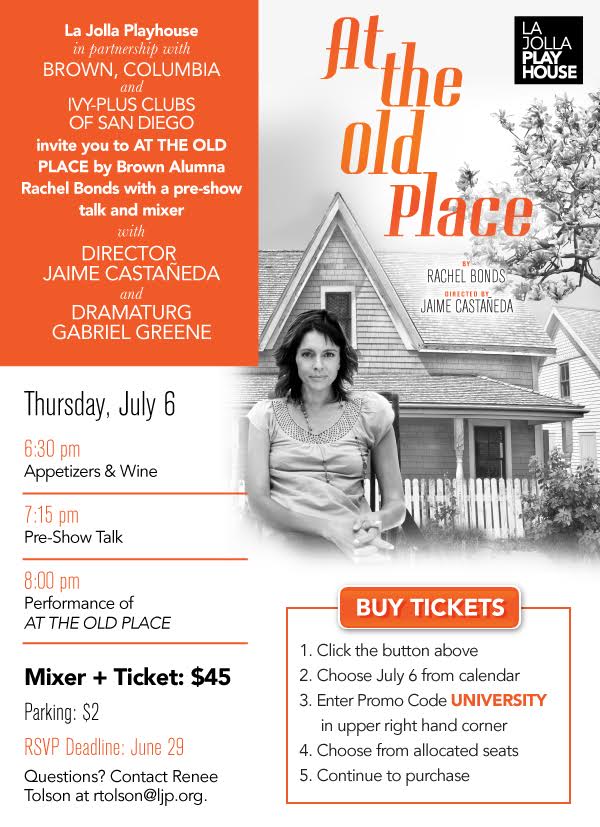 BUY TICKETS HERE: http://www.lajollaplayhouse.org/at-the-old-place
Follow steps #2 - 5 on the left.
This event will sell out, so be sure to purchase tickets early. Remember to use promo code "UNIVERSITY" for admission to the exclusive pre-performance event. Several days prior to the performance date, you will receive a confirmation email from the playhouse regarding the reception and other details.
Any questions, contact BUCSD President Alex Szabo: alex@topsailgroup.com
Click here for the La Jolla Playhouse website.
Located on the UCSD Campus via the Revelle Entrance
2910 La Jolla Village Drive
La Jolla, CA 92037
When:
Thursday, 07/6/17 at 6:30pm - 9:30pm | iCal
Where:
La Jolla Playhouse
2910 La Jolla Village Drive
La Jolla, CA 92037
[ Get Directions ]